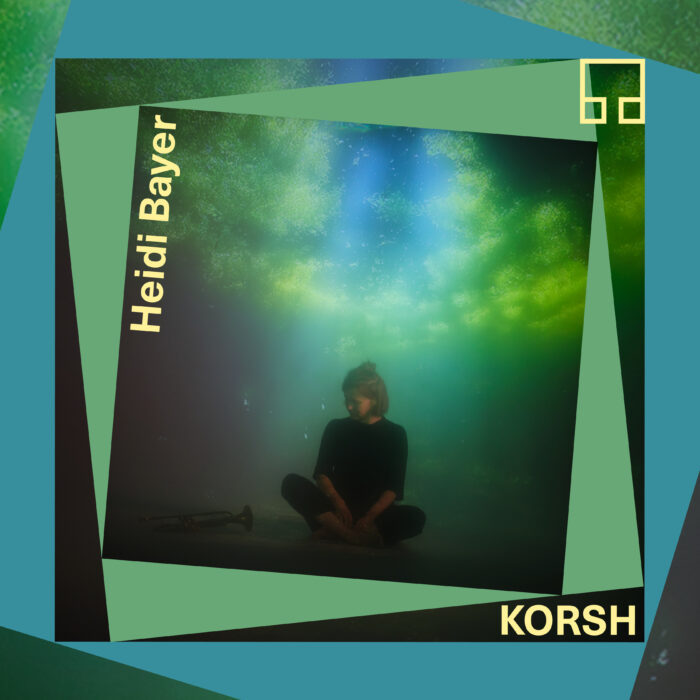 TM014
Heidi Bayer
KORSH
Cast
Heidi Bayer - trp, flgh
Sven Decker - sax, bcl
Kalle Moberg - acc
Robert Landfermann - b
Oli Steidle - dr
Pictures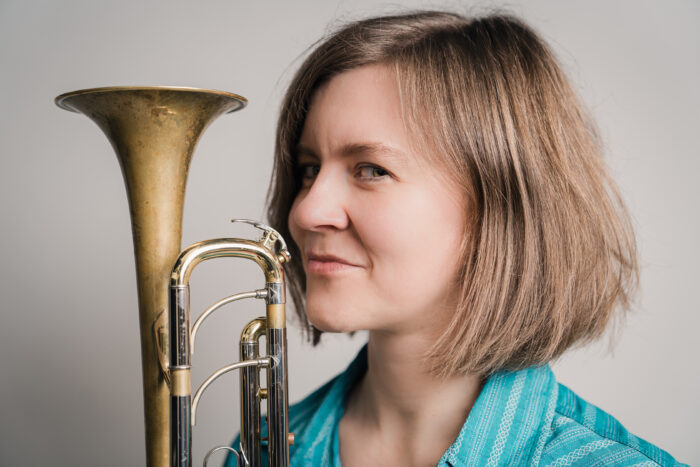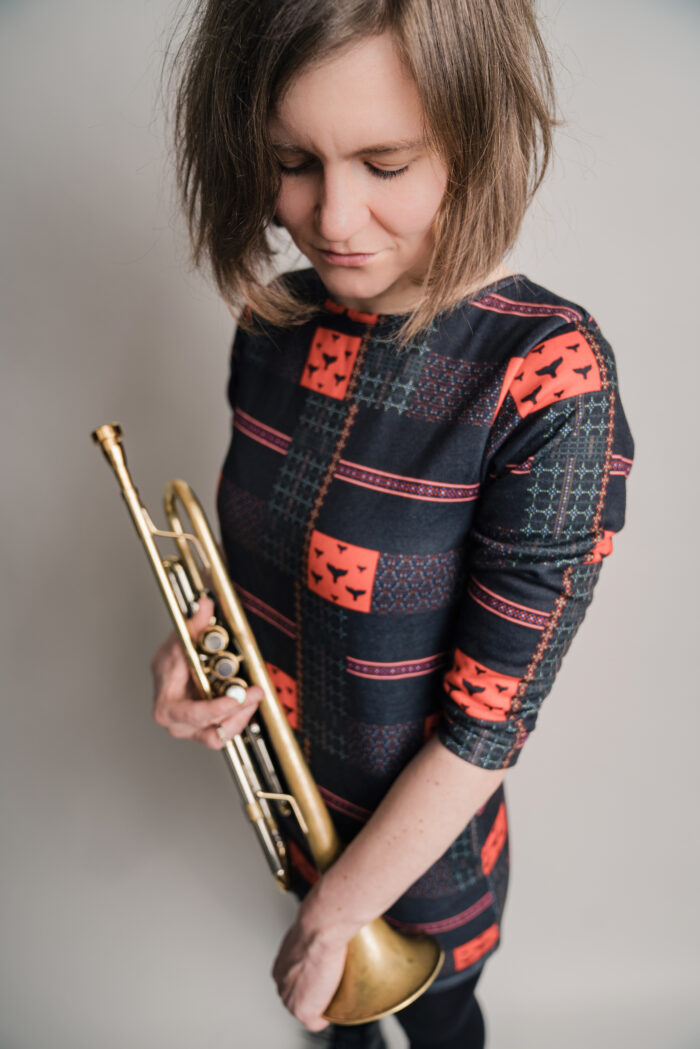 Liner Notes
Life is full of contrasts. Accepting them requires courage. But to send our innate need for harmony through the filter of these contrasts and then to derive something coherent, stringent and holistic from what is contrary and at first glance contradictory requires a master hand. Cologne-based trumpeter Heidi Bayer has all that ... the courage to accept the world as it is, rather than as it should be, and the gift of following the logic of the seemingly incongruous to derive from it the poetry of contrast. And despite this, or perhaps because of it, she is a utopian who makes things heard that no ear has heard before.

First of all, the line-up with Heidi Bayer on trumpet and flugelhorn, Sven Decker on tenor saxophone and bass clarinet, the Norwegian Kalle Moberg on accordion, bassist Robert Landfermann and drummer Oli Steidle is striking. By the way, the band name and album title result from the first letters of the first names. Independently of the fact that all five participants also set accents as bandleaders and soloists, they all stand for their very own aesthetics, which immediately reveals itself on "KORSH". The very first track "Once In A While" sounds like a snowstorm in high summer. Different forces work together, which one would hardly expect at once. The accordion pushes itself with such vehemence into the jazz context of trumpet, saxophone, bass and drums, as if it alone wanted to set the direction. The voices negotiate with each other and in the end find a common direction. All of this is exactly as intended. This track already hints at what will happen in the rest of the album, but does not anticipate everything. Because "KORSH" is a journey, through highs and lows, through familiar and completely unknown, through clarity and mysticism, through personal and abstract, and not infrequently everything at the same time.

Opposites attract, as is well known. The contrasts are already inherent in the voices and idioms of those involved in "KORSH". Heidi Bayer writes music for people, not per se for instruments. The accordion had been close to her heart for a long time, but for just as long she had been searching for an accordionist who already combined this range between grace and the joy of experimentation in his person. After extensive research, she found what she was looking for in Norway with Kalle Moberg. The cornucopia of his sound possibilities enthralled her as much as his stylistic spectrum from classical to jazz to drones. His accordion can sound like an organ here, a bass clarinet there, and sometimes simply like the elemental force of the earth itself. With Moberg, she went full risk. "It wasn't until I listened through the recordings that I realized this could have completely backfired," the trumpeter sums up, only to immediately dig deep. "It was just insane luck that it all worked out the way it did."

The selection of the other musicians shows that it is not only luck, but also Heidi Bayer's good hand for sounds and voices, as well as her sensitivity for the keyboard of individual characters. She has a long friendship with Sven Decker, which has already come to fruition in various projects and bands. She especially appreciates the exceptional saxophonist's ability to let go unconditionally. Together with Decker she thought about a suitable rhythm section. The Berlin drummer Oliver Steidle brings a pairing of expressiveness and playfulness that fit precisely into Heidi Bayer's concept. Above all, he also brings the necessary willingness to take risks. Steidle, in turn, suggested Robert Landfermann as bassist, whom the bandleader already had in mind anyway. Landfermann is an extremely empathetic individualist who balanced the now complete quintet.

And of course there is Heidi Bayer's own voice. The variety of her playful facets and disguises is impressive. In every song she takes on a different role. Sometimes she confronts us very warmly and obligingly, sometimes very undercooled and pointedly, and with brilliance and certainty of subject she masters the whole repertoire in between. "It doesn't happen consciously at all, but I wanted to create a situation in which I had to take myself out of my comfort zone. I just wanted to allow myself to also make audible all the sides of me that are otherwise not so typical for me, but still make up a part of me."

Heidi Bayer does not look for the greatest possible intersection between the members of her crew, but works out contrasts and makes overlaps audible. A contradiction is only a contradiction if it is perceived as a deviation from the harmony of circumstances. Heidi Bayer starts from her own premises and on their basis creates an exceptional album that is close to life. "KORSH" describes an asynchronous process of individual and collective moving together and drifting apart, in which, in addition to playful freedom, above all the multiple characters of the five musical personalities come to the fore. The sophisticated oscillation of personalities within a clearly defined framework has never been heard before.
Read all
Tracklist
03
In der Halle der Bierkönigin
:59
04
Ballad For the Brave
:43
06
Ballad That Is Not a Ballad
:04
07
Trying to Relax. Not.
:07
Release: 28.04.2022